ΧΙΟΝΙΣΜΕΝΟΣ ΟΛΥΜΠΟΣ ΠΑΝΩ ΑΠΟ ΤΟ ΜΑΓΝΗΤΙΚΟ ΠΕΔΙΟ ΤΟΥ ΟΛΥΜΠΟΥ. ΕΚΕΙ ΑΠΕΔΕΙΞΑ ΜΕ ΤΟΠΟΓΡΑΦΙΚΑ ΟΡΓΑΝΑ ΟΤΙ ΤΟ ΑΝΩΜΑΛΟ ΤΟΠΟΓΡΑΦΙΚΟ ΠΕΡΙΒΑΛΛΟΝ ΔΗΜΙΟΥΡΓΕΙ ΤΗΝ ΕΝΤΥΠΩΣΗ ΤΗΣ ΕΛΞΗΣ ΠΡΟΣ ΤΗΝ ΑΝΗΦΟΡΙΑ ΠΑΝΩ ΑΠΟ ΤΗΝ ΑΚΡΟΠΟΛΗ ΤΩΝ ΑΡΧΑΙΩΝ ΛΕΙΒΗΘΡΩΝ. Λευτέρης Καλιαμπός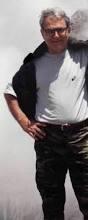 MOUNT OLYMPUS

By Prof.LEFTERIS KALIAMBOS (Λευτέρης Καλιαμπός) T. E. Institute of Larissa, Greece (Nov. 2012)
I was born in Leibethra ( the city of Muses ) in 1944 and this is my painting (1974) representing the following snowy landscape of Olympus under the Zeus clouds near the city of Muses.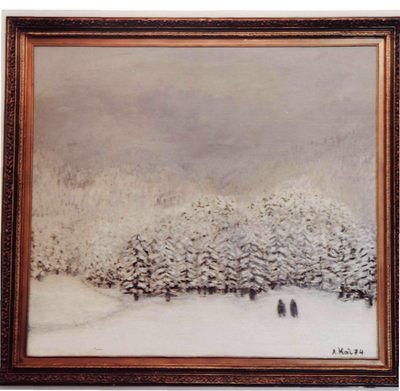 In the year 2000 at the WORLD NATIONAL PARK CONVENTION (Goslar of Germany Oct. 25, 2000)   I presented the geological and ecological characteristics of the mount Olympus. Especially I emphasized that the crags on the top of Olympus (Pantheon ) since ancient times seemed to be like gigantic castles  of Gods.That presentation became the sparkle for me to prepare a large number of poems about Olympus in Homer's meter. ( See my COSMOGONY IN HOMER'S METER  [1] presented at the 22nd World Congress of Poetry, 2011 ).
Unfortunately the early epics, like the Iliad and the Odyssey offer little information regarding the geographic location and the plant life.I also noted that the mount Olympus is rich in tree and plant life supporting over 1700 species, (some very rare).
Thus, Olympus is internationally known as for its important ecological and geological characteristics of incomparable natural beauty as well as for its strong relationship with ancient Greek mythology. The importance of the Olympus ecological characteristics has been recognized not only in Greece and Europe but also from around the world. In 1981 UNESCO declared " Olympus a Biosphere Reserves "
In the year 2003 I showed that the so-called "Olympus magnetic field " is an optical illusion due to the various anomalies in topography of Olympus near the Acropolis of the ancient city Leibethra .In the 1970s among several paintings I created three paintings for Olympus. The first painting presents the snowed Olympus as seen from the area of ancient Dion,  the second represents the Peneios river crossing the Vale of Tempe and  the third creature is  this  painting which represents a snowy landscape of Olympus in a foggy weather under the Zeus clouds in a place of natural beauty between the area of Muses ( my birth place Skotina ) and the ancient historical lake Askouris, which was the passing place of Xerxes' army (480 BC)  and of Romans when they invaded Macedonia (168 BC).